Organic Baby Food -Today's Best Option
Babies may not be worried about what they eat, but their parents certainly are, organic baby food can put their worries to rest.
Nowadays, more of us are becoming serious about the adage that "you are what you eat." You are paying closer attention to the food that you put into your bodies. In addition, you are becoming more and more selective about the food choices that you give your babies and children.
Looking For Organic Baby Food?


First things first, breastfeeding is downright the absolute best thing you can do for your babies health. But if you are unable to breastfeed, (I've been there), you have many organic formula options available.
You are a person who is concerned about what you eat and about the food that you give to your children, including your baby. In this regard, you are interested in finding organic baby food and natural food products for your baby. There are a growing number of resources available through which you can obtain organic and natural food products in both the brick and mortar world and on the Internet.
More stores are carrying organic baby food and formula now then ever before.
Naturally when you have a baby you want everything they come in contact with to be as pure and natural as possible. As you become more aware of your own health and how your choices affect the environment, its easy to understand why consumer demand for organic products has been growing at a rapid pace.
Consequently many manufacturers of baby food are now producing organic varieties of their standard fare. With organic baby food available now more than ever more parents are feeding their infants this healthier alternative. Yes, it is slightly more expensive, but when you realize the benefits of increased nutrition and no added or residual chemicals - the cost is so worth it!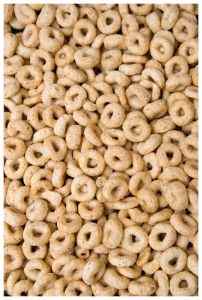 You can choose organic baby food as a desirable alternative to conventional baby food for many reasons. The idea of feeding your infant food grown with pesticides, chemicals and hormones scares many consumers. The need for chemical additives in the production of food only benefits the growers. By using these pesticides and chemicals they increase the amount of viable crops available for sale.
Organic farmers on the other hand focus more heavily on purity and quality, not quantity. Consequently there is no draw back to feeding your baby organic food. Organic foods are required to meet government food safety standards the same as with conventional foods.
When you think of baby food, generally the first brand that comes to mind is Gerber. With decades of product excellence and consumer satisfaction, Gerber is typically the brand of baby food carried by most grocery stores. Gerber has recognized the demand for organic baby food and now offers a full line of USDA certified products to meet all your babies needs. Gerber Organic baby food line includes cereal, phase fruits, vegetable and meats, juices and snacks. With it's wide spread availability and fantastic product line Gerber has emerged as a leader in popularity of organic baby food.
Earth's Best organic baby food is another popular choice. Earth's Best offers a wide variety of food for both infants and toddlers. Their easy to prepare frozen organic meal choices make a nice, quick and healthy meal for your toddler. You won't be lost for snack choices with Earth's Best Organic, they have a full line of cookies, biscuits and bars to satisfy all different taste buds.
Earth's Best also offers a organic baby formula for the tiniest of consumers. Earth's Best formula offers both a milk based and soy based formula completely organic and free of chemicals. Earth's best really goes above and beyond in their product line.
With so many USDA certified organic baby food products being sold, you are sure to find what you are looking for. Because pure, natural and safe food is what matters most to you when selecting your babies diet then organic food is a smart option.




Organic Baby Food -Natural Home-made recipes
by Laura Garwood Meehan

Purchase organic fruits/vegetables, and wash thoroughly.For apples, firmer pears, prunes, broccoli, carrots, cauliflower, eggplant, green beans, greens (kale, collard greens, spinach, etc.), peas, potatoes, rhubarb, squash (summer or winter), or yams/sweet potatoes, remove any peels, cores, and/or tough stems. Chop it into small pieces (one-inch cubes should work). Add the item and enough water to the pan/microwaveable dish so that it will not entirely boil away (a few tablespoons should do). On the stove, bring everything to a boil, and cook until tender. Keep a lid on the pan to minimize nutrient loss. Never microwave- this changes the molecular structure of the food.
For softer, very ripe fruits, such as bananas, avocados, plums, peaches, (soft) pears, apricots, melon, kiwis, mangoes, nectarines, and papaya, cooking is not necessary. Simply remove peels and cores/pits, cut into manageable chunks.
Pour the fruit/vegetable as prepared above and any cooking liquid into your food processor (or blender, if you don't have a food processor). For an older baby, you may wish to use a potato masher to save electricity and build up those parental arm muscles, but it will not make most of these items fine enough for a younger baby.
Pour into individual serving dishes to last a day or two in the refrigerator, and pour the rest into ice cube trays to freeze. Once the frozen cubes are cool enough, put them in an airtight container or ziplock bag, removing several at a time to defrost in the fridge. Either serve the food as-is or stir into other fruits/veggies or baby cereal. Do not add salt or sugar--your baby doesn't know what these taste like yet, and doesn't need them. If you want, you may wish to gradually add increasing amounts of other herbs and spices, such as pepper, cinnamon, paprika, or whatever you wish to the purees. This will broaden baby's palette of tastes. Simply making your own baby food will accomplish this anyway, however, since you are not likely to find eggplant or zucchini in the baby food aisle!
If, as I do, you have a toddler who won't eat her veggies, don't give up on making these purees. Stir them into everything: baby cereal, pasta dishes, and baked goods. Spread a very thin layer of a sweet veggie or fruit onto her nut-butter sandwich instead of sugar-laden jelly (believe me, she will love it). I believe this not only sneaks wonderful nutrients into her diet, but also acclimates her to the taste of vegetables, so that some day, when she stops being a control freak (when does this happen?), she will find she enjoys them.
Please note: Do not prepare citrus fruits or tomatoes for babies under one. Avoid nuts, dairy, and wheat if your family has a history of allergies. Ask your pediatrician whenever you have questions or concerns. Never eat raw eggplant or rhubarb, and definitely don't feed them to your child. Throw away any uneaten portions of food that has already been served, and, "when in doubt, throw it out!"
Enjoy, and bon appetit!
Oh, and you might benefit from some pureed carrots being stirred into your own pasta!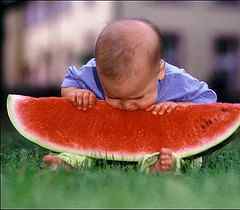 Foods To Avoid: 12 to 24 months
Low-fat or Skim milk: Your toddler still needs the fat and calories of whole milk for growth and development. Once he turns 2 (and if he doesn't have any growth problems), you can start giving him lower-fat milk if you like.
Large chunks: Pea-size pieces of organic baby food are safest — they won't get stuck in your child's throat. Vegetables like carrots, celery, and green beans should be diced, shredded, or cooked and cut up. Fruits like grapes, cherry tomatoes, and melon balls should be cut into quarters before serving, and meats and cheeses should be cut into very small pieces or shredded.
Small, hard foods: Nuts, popcorn, cough drops, hard candies, raisins, and other small dried fruit and seeds are potential choking hazards. Also avoid chewing gum and soft foods like marshmallows and jelly candies that might get lodged in your child's throat.
Peanut butter: Be careful not to give your toddler large dollops of peanut butter, which can be difficult to swallow. Instead, spread peanut butter thinly on bread or crackers. You might want to try thinning it with some applesauce before spreading it.
More choking prevention:
• Avoid letting your child eat in the car since it's hard to supervise while driving.
• If you're using a rub-on teething medication, keep an even closer eye on your toddler as it can numb his throat and interfere with swallowing.
Highly allergenic foods: Most kids can handle common allergens by their first birthday. But if you're concerned about allergies, experts suggest delaying the introduction of egg whites until age 2, and holding off on shellfish, tree nuts, and peanuts (including peanut butter) until your child is at least 3. Toddlers Eating Healthy – Plan For Kids Eating Healthy Without Food Allergies

Foods To Avoid: 24 to 36 months
Choking hazards: Even though your child is becoming a more competent eater, there's still a chance he could choke on his food. Continue to avoid the choking hazards listed above, and discourage your child from eating while walking, watching TV, or doing anything else that might distract him from his meal.
Highly allergenic foods: By age 1, most children can handle most organic baby food. However, in families that are prone to allergies, it's better to wait until after age 3 to introduce highly allergenic foods such as nuts and shellfish.
Warning signs of an allergic reaction
Signs of an allergic or bad reaction to food include vomiting, diarrhea, rash, swelling, abdominal pain, cough, crankiness, excessive gas, hives, itching, runny nose, shortness of breath, stomach bloating, and wheezing. Symptoms most often show up within a few hours of eating. Call your doctor right away if you think your child may be reacting badly to something he ate.
This article was reviewed by Stephen R. Daniels, chief of pediatrics at The Children's Hospital in Denver, Colorado.


Check out The Natural Baby Store for feeding accessories.

If you're interested in making positive changes to live a healthier, more prosperous life - These tips and suggestions will be valuable to you and your family.
Please sign up for our new E-zine, "Live-4Real"?
It's totally free!! It will show you - little by little, how you can create a naturally healthier life.
Fill out your email address below and you can start receiving up to date information once a month on a topic related to "Living-4Real."
Return to All Natural Baby Page from Organic Baby Food