A Natural Bath In a Few Simple Steps


You can create a natural bath design, achieving balance by mixing simple spontaneous things, and the planned, more refined objects. You strip away the unneeded, creating a bath that is uncluttered and fluid, providing a tranquil space so you can relax and renew yourself.
You need a respite from your busy life, so consider transforming your bathroom into a personal refuge. Follow this simple seven-step path to create a beautifully designed natural bath.
This design is based on simplicity, fluidity and functionality. When you create a bathroom, the floor plan should flow effortlessly, blending from one area to the next.
KEEP THE DESIGN SIMPLE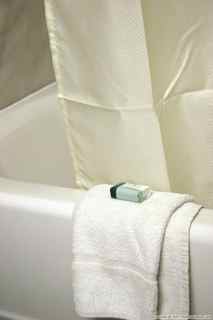 As you create your natural bath, the floor plan should flow effortlessly, blending from one area to the next. Simple design is a difficult thing to do well, and relies a lot on architecture rather than decorative elements, so if you're building or renovating, consider hiring an architect or interior designer to manage the project. They can draw up floor plans, offer suggestions for materials and work directly with contractors to ensure that you achieve the look you want. You may even want to work with a feng shui consultant. Feng shui is the Chinese art of placement that focuses on creating a positive flow of energy in the house. Whether you choose to hire a consultant or go it alone, here are some tips from designers and architects on how to think about space.
While sections may be distinct, the bathroom should not feel divided. You want to be able to easily transition from one space to another.
Place the bathtub by a window so that you can experience nature while soaking. The bathroom should interact with adjacent rooms so that the view looking in and out of the bathroom is appealing and serene. The toilet area should not be seen from the doorway. Consider placing a beautiful piece of artwork within viewing distance from the toilet; let that art be the focal point from the doorway.
CHOOSE NATURAL COLORS
Natural bath design flows from the natural world. Bring elements of stone, water and air into your bathroom by picking colors that reflect them. Designers commonly choose sand, taupe, gray, green, and black but bright colors work, too (if you like red, use pomegranate or cranberry, not stoplight.) Think natural!
In addition to choosing natural colors, find a balance between light and dark colors.

Keep the background neutral and monochromatic. You can accomplishes this by painting the walls the same color as tile or flooring. Match the toilet and towels to the wall color. Choose one or two beautiful objects to spotlight against the neutral background, such as a smooth stone sculpture or a richly colored landscape.



USE ORGANIC MATERIALS
Reflect nature's influence on your natural bath design by your choice of materials. Strive for balance between Asia's five elements: fire, earth, water, metal and air. Blend copper faucets and stone sinks with airy rice paper screens. Move the mountain inside the house with stacked pebble tiles. Cast concrete sinks have the look and feel of carved stone and add an important grounding balance to your bathroom. Consider installing bamboo laminate counter tops or flooring.
Teak is a popular wood and it's an easy way to add an authentic touch with no remodeling at all. One to three pieces work best. Balance is the key.
LAYER THE LIGHTING
Light affects our moods, making us cheerful or contemplative; the lack of sunlight can even make us depressed. As with all aspects of a natural bath, your goal is to achieve graceful balance, in this case between types of lighting (light) and shadow.
Base your lighting plan on natural light from a window or even from a room adjacent to the bath. Use window treatments that offer privacy and create diffused light, such as stained glass, window films and rice paper shades.
Choosing a variety of interior lighting sources creates a layered lighting scheme, which lets you achieve balance and flexibility. Hang canister or pendant lights over the sink so you have a place shave or put on your make-up. Placing sconces on either side of the mirror will light your entire face without shadows so you can do those delicate tasks with ease. Install indirect lights to quiet the room when you want to soak in the tub. Dimmers will help you achieve the right balance between natural and electrical light. To add drama, highlight a solitary piece of art or a single, perfect vase with a spotlight.
INVEST IN A SOAKING TUB
In a traditional Japanese house, soaking in a deep tub is a ritual of relaxation in a family's day, says architect Yoshiko Sato of Morris Sato Studio in New York City. You can achieve this ritual in your home by installing a soaking tub.
Sato recommends the Tea-for-Two bath by Kohler. It's an extra-deep, five foot basin with a waterfall spout and a well-placed drain so that two people can sit comfortably. Duravit's Starck X bathtub adds another element by allowing the water to overflow into a bed of stones. Wooden soaking tubs are another option for traditional bathrooms, though many designers say they're expensive and high maintenance.
While Sato does not recommend larger bathtubs because it is difficult to keep the water very hot, the MTI Whirlpool bath has an internal heating system that keeps the surface of the tub warm, which keeps the water heated longer. Placing the bathtub by a window makes the experience even more relaxing.



CONNECT WITH NATURE
Natural design highlights our relationship with nature and achieving balance between the two creates the serenity that has made the natural bath so popular.
If your budget doesn't allow for walls of glass, a simple window above the bathtub that looks out onto a tree or gives a view of the sky will also work. You can also bring nature inside by having a single, intricate orchid on the vanity. The goal is to use nature to create stillness and tranquility in the room.
DO MORE WITH LESS
You may clutter your home with unnecessary items, yet you can easily do more with less. Here are some great tips for de-cluttering your bathroom and creating a sense of calm in your natural bath.
* Transfer natural bath products like shampoo, conditioner and body wash to coordinated containers that are the same color/texture as the shower tile so they disappear.
* Keep surface areas clean. Stow all blow dryers and toothbrushes. Consider investing in a deeper medicine cabinet and reorganizing drawers to make space for only the necessities. A stripped-down design makes the bathroom seem more spacious.
* If you have to store things outside of cabinets, do it in rush or woven reed boxes; they add natural texture and the rushes can take the steam.
* Decorate by spotlighting one beautiful piece of artwork or seasonal flowers. Arrangements should be simple. Even a single flower is nice.
* Put towel bars on the back of a door or replace them with hooks or pegs. Coordinate towels with paint and tile so that they blend in with the background.
* Display a few beautiful candles.
* Keep your space open by installing the minimal number and size of bathroom fixtures.
Go To Natural Bedding Page and learn how to create a sleep haven.
Need a little help making the switch to "all natural living"?
Please sign up for our new E-zine, "Live 4 Real"?
It's totally free!!
Fill out your email address below and you can start receiving up to date information once a month on a topic related to All Natural Living.



Return to All Natural Home from Natural Bath